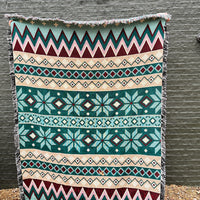 This cozy blanket has a classic Fair Isle pattern with hues of evergreen, mint green, pink, gold, and magenta -- just like Grandpa's favorite ski sweater!
For every blanket sold, one is given to a neighbor in need. Our giving partners serve our neighbors in crisis to provide blankets during the cold weather months.
Size: 78" x 54"
95% cotton 5% reclaimed polyester tapestry.
Packaged in branded tote bag.
NBP original design.
Made in the USA.
For bulk discounts, custom options, wholesale, or corporate gifting please visit: https://nashvilleblanketproject.com/pages/bulk-wholesale-and-custom-blanket-guide
Materials: recycled cotton, recycled polyester, recycled acrylic
Size: approximately 6' x 4'
Made in Mexico

Please allow up to 2 weeks for shipping.